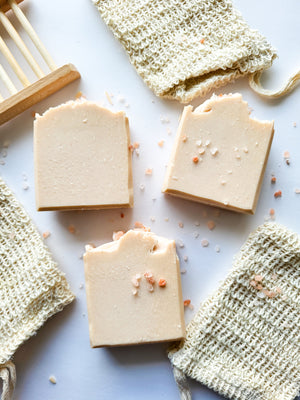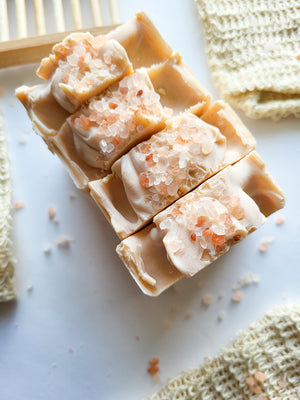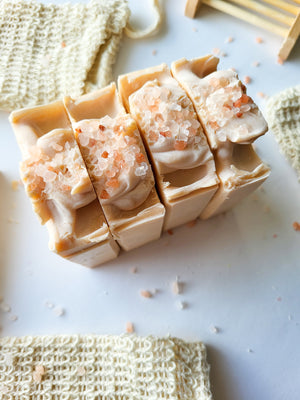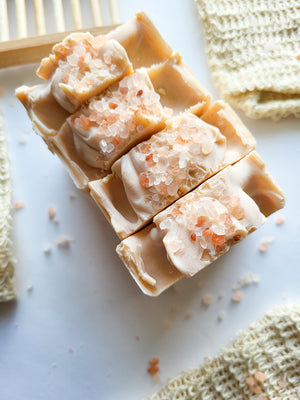 Pink Himalayan Salt scrub less Bar
This is a scrub less infused pink Himalayan salt bar. The pink Himalayan salt was infused into the soap by using a cold process method to help the salt release all the vitamins and minerals into the bar of soap. So, with this soap you can still get the benefits of the pink Himalayan salt , but without the roughness of the actual salt inside the soap bar. 
This luxurious soap is made with Cupuacu butter and Grape seed oil.
Please do not eat this soap.
SCENT: 
CUSTOM BLEND OF ROSEMARY, PINK GRAPE FRUIT AND COPAIBA ESSENTIAL OILS.
DETAILS:
Soap bar can weigh between 5.0 oz to 6.0 oz. weight can may vary due that each bar is individually made by hand.
INGREDIENTS: 
SODIUM HYDROXIDE, SODIUM LACTATE, TITANIUM DIOXIDE, CUPUACU BUTTER, OLIVE OIL, COCONUT OIL, CASTOR OIL, GRAPE SEED OIL, KAOLIN CLAY, COLORS AND MICA, KAOLIN CLAY AND ESSENTIAL OILS , PINK HIMALAYAN SALT and PINK Brazilian CLAY. 
Soap Care:
After each use keep your soap dry and in a ventilated area. By using a soap dish, it can also help your soap last longer and dry. 
CHECK OUT OUR SOAP DISHES!
 This item is not used to cure any diseases.